2019
2018
Kapiti Coast Classic
This was a very special event in many ways.  38 clubs were represented.
We had a visit from "SPUD" Terry Murphy, who made a special trip to catch up and have a drink with us all.  (Scroll in to see him near the bright blue shirt)  Also, Paul Hollows (Wainui) got a hole in one on the 14th at Waikanae.
The Charlies golf tours lucky draws went to: Raewyn McMahon; Paul Hollows (lucky day!) Rose Braid, Alan Chapman and Sue Martin.
Kapiti Coast Classic 2019
Levin 12 x 12
What a great fun format of matchplay………. 12 holes, lunch, 12 holes.  Same again day 2…  The weather held off, so we played in sunshine. The course was in lovely condition, the hospitality was great.
Although the numbers were small, many players said they would return next year.
Generous club sponsorship by Summerset enabled every player to get a prize.  Joanne Welch was there to present the prizes and represented Summerset.
Charlies Golf Tours provided 3 towels as a lucky draw.
Taranaki 4 course
This was the twelfth year the tournament has been run.
We had 132 players from 51 North Island courses
and one South Island course (Tulip) from the Avondale Golf Club in Christchurch. The North Island clubs were spread from Waitangi in the north to Lower Hutt in the south, and east to the Mahia, in the Hawkes Bay.
The field comprised 132 players (66 couples) each day, plus the volunteers at each of the four clubs.
Once again I wish to thank you and the "Summerset Team" for their support and generosity of the Taranaki Seniors 4 Day 4 Course Tournament.   The polo shirts that Sally and Rodney wore, promoting the sponsor was a great idea. Leonie Davies from Summerset Mountain View was there to present the winner with their prize.
Four days of fine weather, pretty windy days 2 and 3.  Great to get the visit from the cow at Kaitaki.  New players are always welcome!!
The Charlies Golf Tour bags went to Doug Grantham; Carl Adlam; Paddy Keegan; Susan Miles; Diane Hughes, Barbara Chitty.
Taranaki 4 course results 2019
Taranaki event list of clubs represented 2019
North Harbour
Waitara
The winners of the Charlies Golf Tour lucky draw were: Bruce Churchill; Jim Basset; Pat Carr; Marie Van Praag
Waitara 2019
Waihi
Charlies Golf tours Mystery prize winners: Peter Chatfield, Jenny O'Dwyer, Bob Hoggard (Bob turned 90 a couple of weeks ago)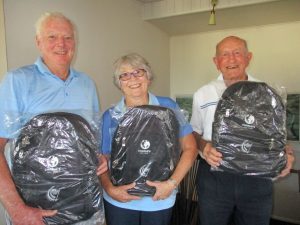 Waihi 2019
Stratford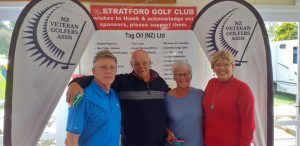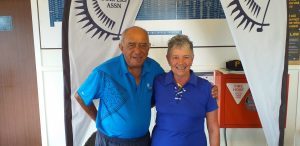 Winners of the Charlies Golf Tour lucky draws were; Mike Walsh; Norman Lofthouse; Alban Reid.
The players enjoyed the Monday off, due to the rain……..real rain…it poured! So some slept, some read, some played cards or pool, it was wonderful. Then rest of the week they were treated to great playing conditions.  Another highlight was the magnificent potluck dinner on the Thursday evening. Well done to all. This event is definitely a good lead into the hosting the nationals next year.
Results:
Central & Southern Hawkes Bay
The Charlies Golf Tours luck draw winners were:  Shirley Colnes, Ron Fletcher, Rex Omundsen and Keith Roberts.
The players sent a message to "Spud" , to let him know that they were thinking of him………..  and missing his humour!   Thanks to Chris Paskin, for the photo taken when he delivered our messages.
C & Sthn Hawkes Bay 2019
Wanganui 2 course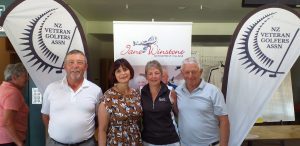 Results Wanganui 2 course
Carterton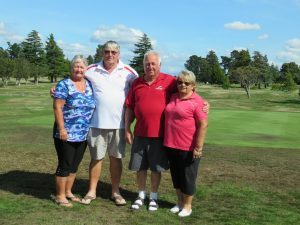 L to R : Chris Waugh, Grant Smith, Keith Hickman, Jenny Harris.
The Carterton Vets 4 day tournament was held on the 18th to 22nd March with Wednesday being a rest day.  Our car park was a literal buzz of activity with many motor homes and caravans arriving for the tournament and staying on site.   A field of 75 players took part over the 4 days with some joining in with our twilight golfers on Wednesday night as well.                                                        Each day there was a prize giving for the day's results and the stablefords for each day were totalled for the week with the overall winners of the tournament being announced on the final day.
The winners were:
Men's Div 1: Grant Smith. Div 2: Keith Hickman.
Ladies Div 1: Chris Waugh. Div 2: Jenny Harris
This being my second year playing in this tournament I have enjoyed the friendly atmosphere amongst fellow players and I looked forward to playing each day, I encourage all Vet golfers to come along next year.
A fantastic well run event, many thanks to Lindsay Sutton , Jim Harris, Alex MacDonald, Bob Walker, Janet Pincock and all the Carterton Vets involved.
The Charlies Golf Tours luck draw winners were:  Wayne Taylor, Sue Fauke, Brian Rose and Jeff Fauke.
Ngaruawahia March 2019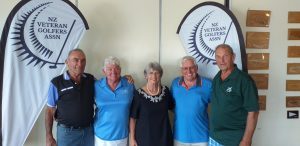 The winners of the Mixed pairs; John and Heather Houston, Sponsor Beth Richards, Pellows Funeral Directors, and  the Mens pairs winner; Barry Gilling and Morris Frankhouser.
The winners of the Charlies Golf tours luck draws were Diane Sutherland, Pleasant Point; John Houston, Waihi and Bryre Hutchins, Ngaruawahia.
Jenny Chen had hers name drawn and generously re-donated his prize back as he had won one at another event.
Ngaruawahia Mar 2019
Bay of Islands, Kerikeri
64 players enjoyed matchplay in the winterless North, missing the cyclone and the rain.
The Charlies Golf Tours lucky draws went to Laurel Flattery; Ray Glogoski;Anne Nunn, Chris Waugh.  @ players donated back their prize, as they had won before.. thanks to Garth Taylor and Don Campbell for their generosity.
Here are all the other 'winners'
Northland 3 course- Northern Wairoa, Sherwood, Whangarei
The 2019 NVGA 3 course, 3day Tournament winners are:
Women's Best Gross Robyn Mulholland (004)
Women's Best Nett Elaine Magill (006)
Women's Best Stableford Kay Gooch (008)
Men's Best Gross Div 1 Leith Whatmough (010)
Men's Best Nett Div 1 Don Campbell (011)
Men's Best Stableford Div 1 Dallas Campbell (012)
Men's Best Gross Div 2 Barry Jessop (014)
Men's Best Nett Div 2 Rex Bezar (017)
Men's Best Stableford Div 2 Warwick Randonich (019)
The Best Team – The BeeTees (021)
Rex and Cherie Bezar & Garth and Karen Taylor
Winners of the Charlies Lucky draw were; Mark Briggs, Mangawhai; Karen Taylor, Horsham Downs; Trevor Bush, Northland, Grant Kay, Northern Wairoa; Paul Hollows, Wainui; Marilym Bresneham, Waipu.
Omokoroa
134 players enjoyed a great event at Omokoroa. Players from all over the country enjoyed good playing conditions and great hospitality.
Attached are photos of the winning pairs:
Men – Bruce Churchill (Linton Camp) & Moray Sutherland (Pleasant Point),
Ladies – Diana Price & Gail Nicholls (both Omokoroa)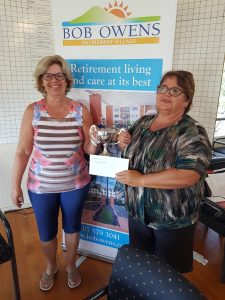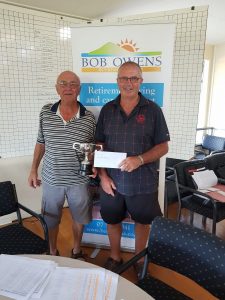 Taumarunui
Charlies Golf tours Luck draw winners………..
Leigh Virtue, Glen Guy, Barry Smith.
Towels: Kevin Southee, Peter Spurway
The winners of the golf are:
Men's. Div 1. Div 2
Best Gross. Andrew Markman Derek Percy
Best Nett. Kevin Southee. Robin McGhie
Best Stableford. Terry Kay. Mike Lack
Ladies
Best Stableford. 1st. Margaret Nelson
2nd. Faye Lack
3rd. Marilyn Harrison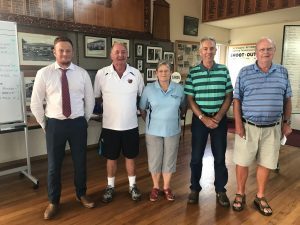 The generous Sponsor was Property Brokers; photographed with the winners:  Derek Percy, Margaret Nelson, Andrew Markman, Mike Lack……….  well done to everyone.
Results from 30th annual Taumarunui senior golf tournament. 6-7-8th Feb. 2019.
Best Gross Combined over 3 days.
DIV 1. Andrew Markman. (Mt. Maunganui)  R/UP. Peter Rankin. [Manor Park]
DIV.2 Derek Percy. [Taumarunui]. R/UP. Alan Brown. [Taumarunui].
Best Nett Combined over 3 days
DIV.1  Kevin Southee,  [Fitzroy] R/UP. Kevin Smith [Omokoroa].
Div. 2. Winner: Robin McGhie. [Te Awamutu] R/UP. Peter Gault. [Riverside].  Stableford 3 days combined.
DIV.1 Terry Kay [Taumarunui]. R/UP. Leigh virtue. [Taumarunui].
DIV.2 Winner: Michael Lack. [Hukanui]. R/UP. Richard Cullerton. [Waihi].
Ladies Combines Stableford over 3 days
Winner : Margaret Nelson.  [Taumarunui]. R/UP. Faye Lack. [Hukanui]
Whakatane 2019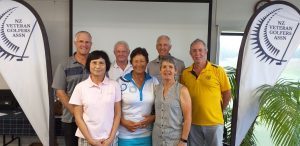 112 players enjoyed a course that was presented in wonderful condition.  The greens held their lines and the 'bounce' created some interesting landing locations. The work of everyone involved was greatly appreciated.   Whilst the weather was very hot and humid everyone seemed to enjoy themselves. The main sponsor 37 The Landing Motel was more than pleased to be supporting this event.
Jack Crew was the oldest competitor at 94 played all three days !! Congratulation Jack……see you next year.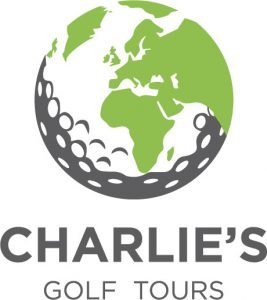 The Charlies Golf Tours lucky draws were won by: Dennis Allan, Ohope;  Ray Lord, Riverside;  Bob Thompson, Whakatane;  Cam Gribben, Royal Auckland & Grange;  Kaiwhata Kingi, Whakatane;  Terry Tapp, Clarks Beach.
Whakatane men 2019
Whakatane women 2019
Results
was last modified:
July 12th, 2019
by